Sheffield Telegraph
Derek Fish april 30 2009
It's six years since I'd last reviewed Beatson House – the building dates back more than 300 years and was part of the Beatson Clark glassworks estate – so a return visit was long overdue. I'd enjoyed it then… this time it was even better.
Anita, who originally trained as a biochemist, has been associated with the restaurant for the last 22 years during which time she's undertaken numerous roles including waiting tables and front of house. But she's always craved the chef's life and that has been her forte for the last six years.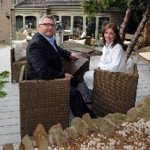 One thing that has changed for the better is the decor. Anita and her fiance Andy Gardiner thought long and hard before putting their trust in bold floral designs. There are three dining rooms, two downstairs and one upstairs, plus a bar area and each has been subjected to dramatic, big flower treatment in different colours.
It may well be too much in your own home but in a restaurant it most definitely works and that's from someone who puts floral wallpaper near the top of his 'cringe list.' The ambiance in our dining room was completed by gold framed mirrors, subdued wall lighting, green silk curtains, an open brick fireplace with a grate of lighted candles, buttermilk tablecloths with white overlays and embossed leather high-backed chairs. There's also an impressive outside decking area complete with wicker furniture and glass-topped tables.
Foodwise Anita has a brigade of three chefs although she's the brains behind the cooking and the menu, which is flagged up as traditional English with continental influences.
Now local produce and seasonal dishes have become a foodie 'fashion statement' over the years and many establishments have jumped on the bandwagon but it's something Anita has always done – and done well.
She even enlists the help of Aunty Margaret, who has an allotment and grows things to order… Margaret also does a top job as front of house.
There's an all-inclusive three course menu from Tuesday to Saturday (£24.50 Tuesday to Thursday, £26.50 Friday and £27.50 on Saturday) with an ample selection of starters, mains and home-made desserts plus seasonal specials which change daily.
We were offered a choice of warm brown seeded, wholemeal and white bread rolls which had almost disappeared by the time our starters arrived.
My shredded duck and vegetables in deep fried filo pastry came off the 'specials' – three spring rolls packed with the aforementioned ingredients and heightened by a lovely sweet chilli dipping sauce. Meanwhile M was in foodie heaven with her deliciously creamy smoked trout and spring onion risotto from the main menu that was so good she didn't want it to end…
Other starters included crayfish, poached salmon and dill tian; home-made chicken liver parfait; crispy smoked bacon and a poached duck egg with black pudding and hash brown and black pearl scallops with sweet chilli jam (£3 extra).
Main courses are wide-ranging and include sea bass, salmon and pesto wrapped in puff pastry, confit duck leg and honey-roasted breast and two veggie options of an open pie filled with feta, spinach, peppers and toasted pine nuts and a mushroom, brie, hazelnut and cranberry puff pastry parcel. Griddled venison haunch steak from the nearby Round Green farm is an extra £1.50 while the famous Barnsley chop carries a supplement of £4.50. There's also special steaks, sirloin (£2 extra), fillet (£6) fried and served with a choice of topping or sauce.
My main was again a 'specials' option – thick slices of melt-in-the-mouth lamb leg steak, marinated in Henderson's Relish and laid on a bed of herbed couscous. Excellent taste and texture topped off with six roasted baby vine tomatoes along with 'flashes' of mint sauce on the plate.
M's slow roasted belly pork was equally delicious. Succulent with crispy crackling, it rested on a disc of black pudding and was complimented with apple and onion puree and apple cider sauce.
Both dishes were served with roasted potatoes, fresh broccoli, cauliflower cheese and carrots.
The wine list features a hefty selection of over 50 from around the world and includes fine and a dessert wine sections. We settled for the easy-drinking House red, an Argentinian Vista Flores of Melbec and Sangiovese for £14 (also sold by the glass).
Desserts brought back memories of Anita's secret recipe sticky toffee pudding. The secret's in the dates and if it isn't the best I've ever tasted then it's mighty close. Light with just the right 'stickiness,' smothered in sticky toffee sauce (I hope my doctor's not reading this) with a scoop of vanilla ice cream (or cream if you prefer).
M took advantage of the early season Wakefield rhubarb in the crème brulee. A creamy, fruity concoction complete with a ginger biscuit.
Our total food bill, including two cappuccinos (£1.95 each) came to £56.90.
Verdict: still one of the best around as this 'House' certainly takes some beating. Perfect combination of innovative, top quality food and friendly service