Whether you like your Beef medium rare or cooked through or you'd prefer vegetarian, let us take the strain so you can enjoy a fine Sunday afternoon with family or friends.
We operate 2 sittings – 12.15pm and 2.45pm in our downstairs dining rooms. Our upstairs rooms can be hired for private parties at 1.30pm. Please note depending on availability these times can vary slightly.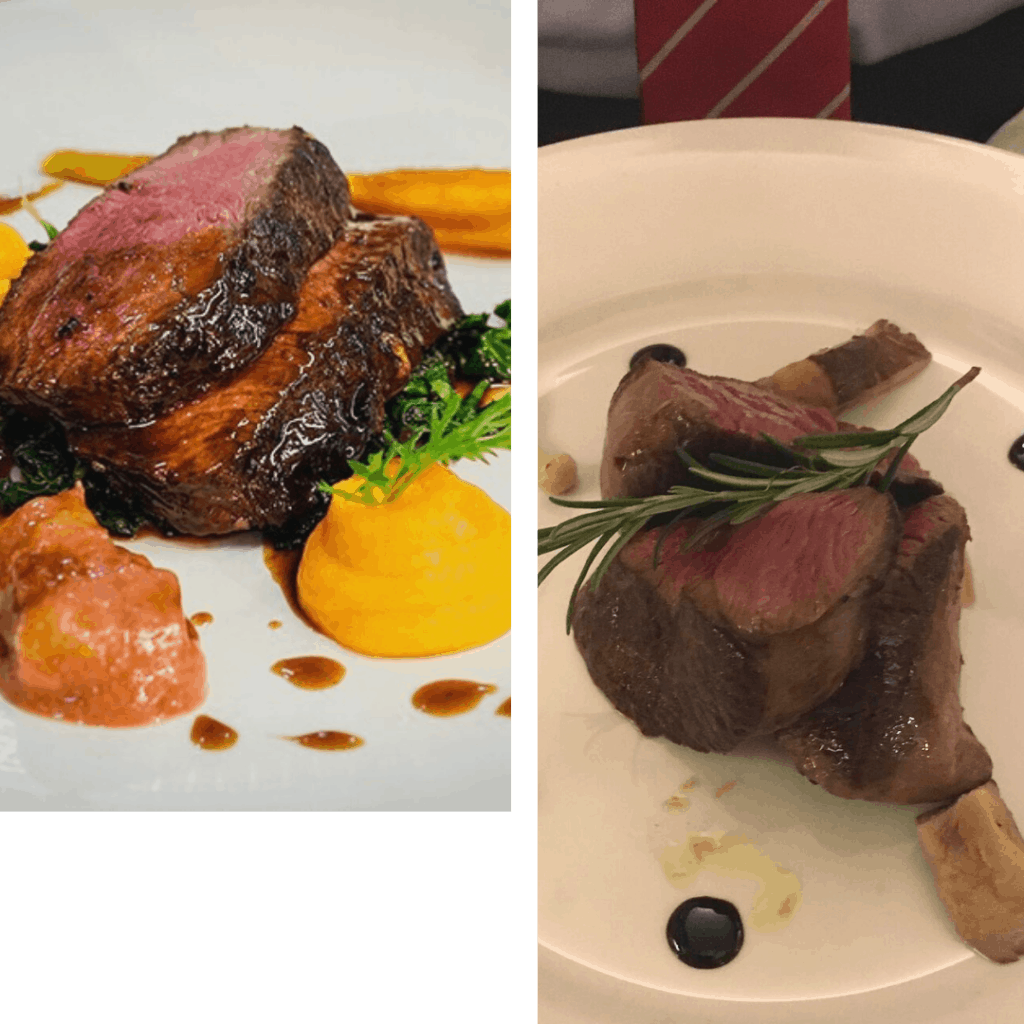 2 courses £28 (children £16)
3 courses £33 (children £19)
The children's menu applies to children 12 years & under. Please note that the below is a sample menu and can vary subject to availability. If you have any allergies, please discuss them with a member of staff. Some dishes may contain traces of nuts.
Sample menu – We use fresh seasonal produce so our menu can change daily
*(V) Vegetarian (GF) Gluten-free
If you have any allergies, please discuss them with a member of staff
Homemade soup of the day (V)
Old school prawn salad classic seafood sauce (can be GF)
Melon & fruit seasonal sorbet (V) (GF)
House pate of the day dressed salad leaves, toasted sourdough (can be GF)
Wild mushroom arancini, marinara sauce, basil oil (V)
Pan-fried scallops, cauliflower puree, crispy pancetta (GF) £3 supp
Butter-roasted, boneless turkey crown, savoury stuffing with sausage meat, sage & onion
Traditional roast beef cooked through

Roast sirloin of beef cooked medium rare
Oven-roasted belly pork savoury stuffing with sausage meat, sage and onion

Carved leg of lamb
All roast meat meals are served with 'dripping' roasties, Yorkshire pudding & proper gravy
(All roast meals can be served gluten-free with the exception of the stuffing)
Pea and leek risotto with either gorgonzola or goats cheese, crispy leek topping (GF) (V)
Butternut squash and chick pea coconut curry, jasmine rice, spring onion and coriander salad (GF) (Vegan)
Pan-fried seabass fillet, brown shrimp and chorizo risotto (V) (GF)


All main courses are served with seasonal vegetables & potatoes
Secret recipe sticky toffee pudding and honeycomb ice cream (can be GF)
Chocolate and pear cake, chocolate sauce, creme fraiche (GF)
Spiced panna cotta, apple compote, ginger sponge (GF)
Blackberry parfait, meringue kisses, picked blackberries (GF)
Classic English cheese selection (can be GF)
Selection of Yorkshire ice creams
Ports, Dessert Wines & Beverages
Old Tawny port – £5.70 (75ml)
Late bottled vintage port – £5.50 (75ml)
Castelnau de Suduiraut dessert wine – £9.30 (75ml) – aromas of orange blossom,spices and fudge. Excellent
with toffee and chocolate desserts
Luis Filipe Edwards Viognier dessert wine – £4.05 (75ml) – Fresh & fruity, best with
toffee & chocolate desserts
Espresso Martini or Chocolate Martini dessert cocktails £9.00
Tea – £2.60
Coffee – £3.20
Hot chocolate – £3.70
Liqueur coffee – whipped cream £6.00
Baileys orange cream – with Grand Marnier, hot chocolate, whipped cream £6.50

We source the very best local and seasonal produce, the menu is subject to changes on the day. Please use the menu as a guide only. If you have any specific questions please get in touch and we'll be pleased to talk through any of our dishes.
As part of the British Skipper Scheme, we only buy sustainably caught fish. For an up to date, fish menu see today's seasonal specials