Whether you like your Beef medium rare or cooked through or you'd prefer vegetarian, vegan or something a little different on the specials board, let us take the strain so you can enjoy a fine Sunday afternoon with family or friends.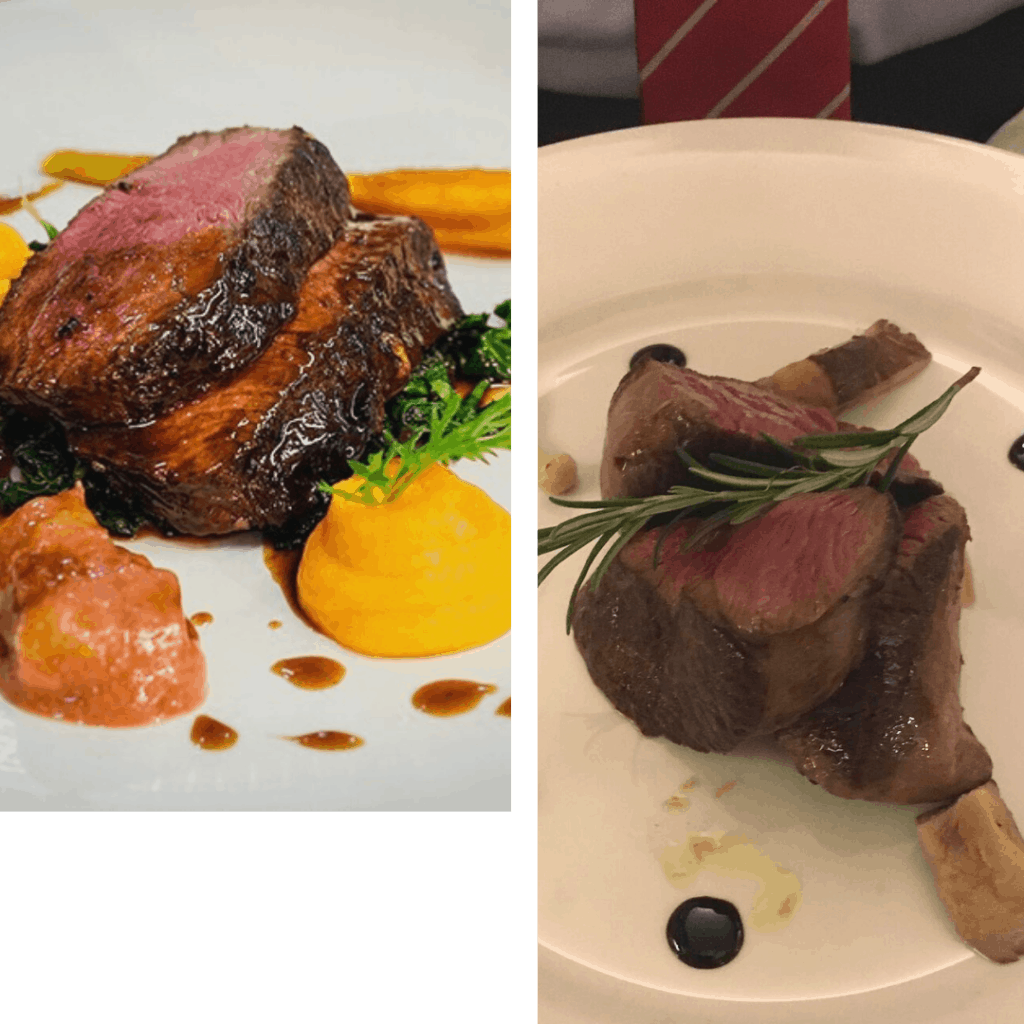 2 courses £22 (children £14)
3 courses £27 (children £17)
The children's menu applies to children 12 years & under. Please note that the below is a sample menu and can vary subject to availability. If you have any allergies, please discuss them with a member of staff. Some dishes may contain traces of nuts.
*(V) Vegetarian (GF) Gluten-free
If you have any allergies, please discuss them with a member of staff
Homemade soup of the day (V)
Old school prawn salad classic seafood sauce (can be GF)
Melon & fruit seasonal sorbet (V) (GF)
House pate of the day dressed salad leaves, toasted sourdough Goats cheese fondue crunchy dipping vegetables, toasted sourdough (can be GF)
Pan-fried scallops burnt apple puree, black pudding crumb, chive oil, dried scallop
roe (gf) £3 supp
Butter-roasted, boneless turkey crown, savoury stuffing with sausage meat, sage & onion
Traditional roast beef cooked through

Roast sirloin of beef cooked medium rare
Oven-roasted belly pork savoury stuffing with sausage meat, sage and onion

Carved leg of lamb
All roast meat meals are served with 'dripping' roasties, Yorkshire pudding & proper gravy
(All roast meals can be served gluten-free with the exception of the stuffing)
Pea, asparagus, and courgette risotto (GF) (V)

Pan fried salmon fillet herb hollandaise, buttered asparagus, watercress salad (GF)
Pan-fried seabass fillet mussels, wilted spinach, baby onions, white wine cream broth
(GF)
All main courses are served with seasonal vegetables & potatoes
Secret recipe sticky toffee pudding and honeycomb ice cream (can be GF) £8
Dark chocolate and cherry brownie, spiced poached cherry's, kirsch whipped
cream, cherry gel £8
Honey and yoghurt panna cotta, fig salsa, praline crunch (GF) £8
Blackberry parfait, honeycomb, apple sponge, fresh blackberries, yoghurt and honey drizzle (can be GF) £8
Classic English cheese selection (can be GF) £11
Selection of Yorkshire ice creams £7
Ports, Dessert Wines & Beverages
Old Tawny port – £4.00 (50ml)
Late bottled vintage port – £4.50 (50ml)
Muscat de Frontignan dessert wine – £3.90 (50ml) – Grapey & aromatic, excellent
with fruit-based desserts
Pineau des Charentes Rouge dessert wine – £3.90 (50ml) – Fresh & fruity, best with
toffee & chocolate desserts
Espresso Martini or Chocolate Martini dessert cocktails £7.50
Tea – £2.30
Coffee – £2.95
Hot chocolate – £3.50
Liqueur coffee – whipped cream £5.25
Baileys orange cream – with Grand Marnier, hot chocolate, whipped cream £6.00

We source the very best local and seasonal produce, the menu is subject to changes on the day. Please use the menu as a guide only. If you have any specific questions please get in touch and we'll be pleased to talk through any of our dishes.
As part of the British Skipper Scheme, we only buy sustainably caught fish. For an up to date, fish menu see today's seasonal specials